1-3. Cut out all needed pieces from the desired fabric. Begin by making a princess line. Prepare front 2 panels, stitch them together and overlook the seam.
4-5 . Create back darts on the back bodice.
8-12. Join bias neck strap provided in pattern file, to the right side of the fabric ( stitch should be approx. 0.5cm wide ). Press the seam and fold it twice ( your stitch line should be now the neckline top edge) and pin it in place as illustrated on image number 9. Then topstitch as close to the edge as possible on the top and bottom of just folded strap.
13-15. Create back darts on the back skirt panel.
16-18. Join back bodice & back skirt together, then overloock the seam. 
19-22. Join front bodice & front skirt together, then overloock the seam.
23-26. Moving to the facing. Take the top & skirt facing, stitch them together and overloock the seam. As the last step you'll need to overlook the outer edge of the facing.
27-30. Pin facing to the front panel. IMPORTANT: before stitching insert the belt (pattern for the belt can be also found in the pattern file) 1cm down from the top corner as shown on the image number 28.
30-31. The next step is to join front and back. You can stitch and overloock left side of the dress. IMPORTANT: remember to overloock right side separately and then while stitching side together, leave 1cm gap approx. 1cm above the waistline ( This is how the dress will wrap over. You'll need that hole to insert the strap).
32-33. Join & overloock the shoulder seams.
34-37. Overloock the hem of the dress and then fold it by 1cm with a topstitch. Then fold interfacing into the right position and make a secure stitch to prevent facing from moving.
38-42. Join side seams of the sleeves and overlock. Then double fold the sleeve edge and topstitch. The last step is to insert the sleeve to the dress, overlock the seam and Voila!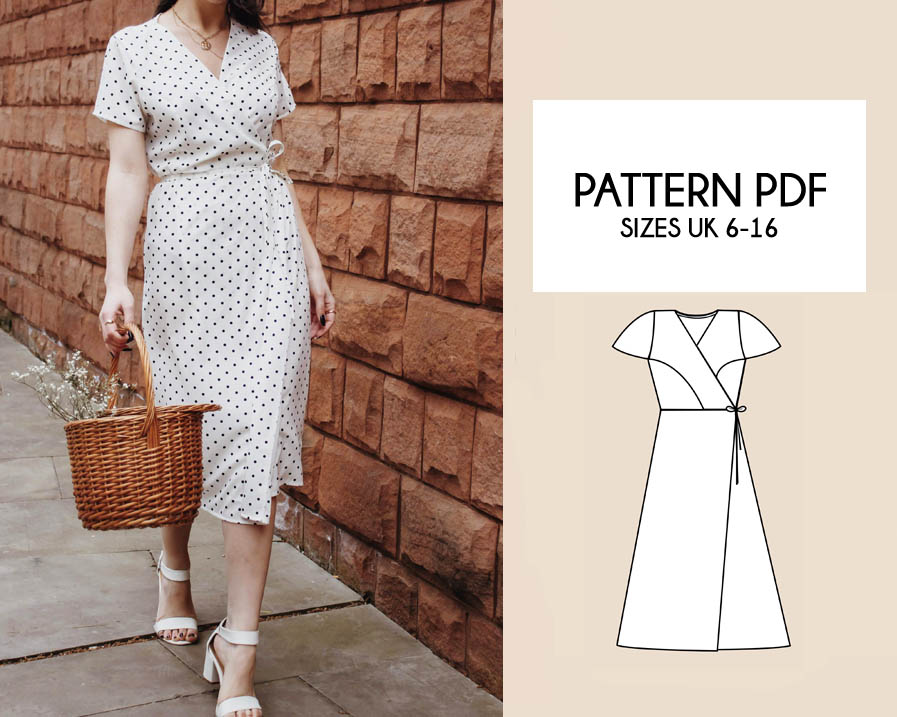 Roselyn Wrap Midi Dress
Digital Pattern PDF
UK 6-16 / EU 34-44 / US 2-12/ AU 6-16