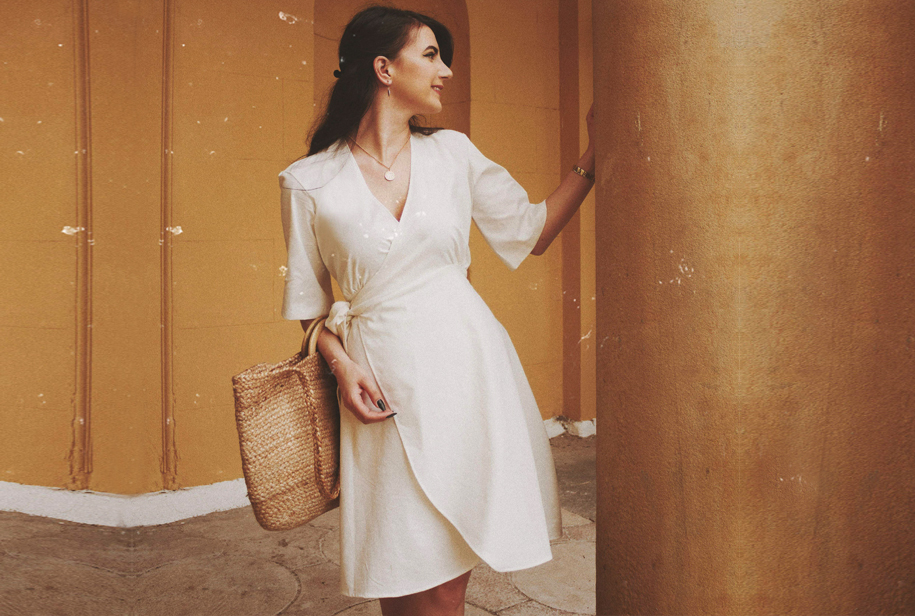 Step by step guide on how to make wrap midi dress:
1. Cut out all needed pieces ( 2x sleeves, back bodice, x2 front bodice, x2 front skirt, back skirt, x2 straps )
2. Start by creating gathers on the front bodice panels. You can do this manually or use a sewing machine. I like to create mine by hand.
3. Stitch front bodice panels with back panel together and overlook the seams with 1cm topstitch.
4. Attach sleeves and also overlook the hem with 1cm topstitch.
5. Stitch skirt front panels with back panels together and join with the bodice.
6. Prepare straps by sewing to pieces together and bagging them out. Then attach them to the bodice.
7. There is two ways to make a whole for a belt. You can overlock left side of the bodice separate and while stitching leave a 2 cm gap close to the waist or once the dress is done you can just simply make a buttonhole. For this particular design I've made a buttonhole as it was much easier.